Two weeks ago, I ran outside to my 9-year-old son screaming. I looked up just in time to see him on the ground, his teeth having hit the handlebar of his sister's bike. When he first opened his mouth, I knew it meant an emergency trip to an oral surgeon.
Though I wasn't happy about his permanent teeth being broken (it wasn't pretty), I was more panicked about the fact that he has a double MTHFR mutation which, combined with certain forms of anesthesia, can cause life-threatening complications. Knowing that not all doctors are aware of this information, all I could think about was that I needed to find the names of anesthesia that he cannot have, and quick.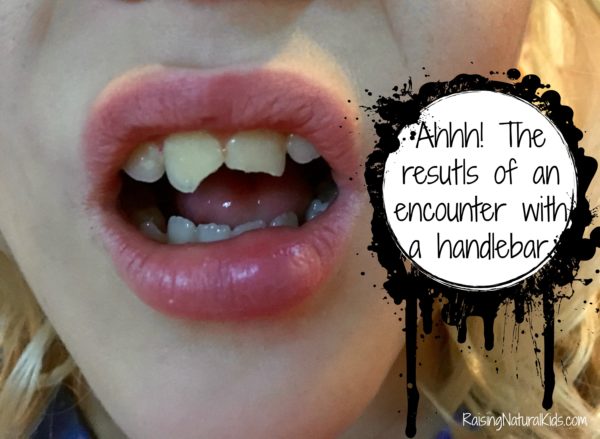 It was two years ago now that I confirmed that my son has a double homozygous MTHFR genetic mutation. I had already suspected this and did some research into just what this means before knowing for sure that he has it. After we got the results, I did a lot more reading and questioning of other people with this mutation, of doctors, of people who read and work with genetic testing and of other parents with kids who have the double mutation. I needed to know what we were in for and how to help my son.
Through my research, I came across material that discusses MTHFR and anesthesia. MTHFR and many types of anesthesia don't mix (I'll get into the whys, hows and a list of what to avoid in a bit). I kept meaning to put together a list of anesthesia that my son can and cannot have just in case we were in a situation where we would need to refer to it. Of course, life as it is, it's not something I ever got around to, and when I needed the information in an immediate situation, I had to go searching for it.
It's because I didn't have the information when I needed it that I write this post, so that it's all in one spot and easy to reference. I hope you'll never need it!
Before getting to the point, let me start with some basics for those who have never heard of MTHFR before. Side Note: If you are here about a cavity, see our post, Healing Cavities Naturally.
What is MTHFR?
This is a question that could take pages to answer, but I am going to keep it simple and leave you with some links to read if you want to know more than what I share here.
Though it sounds quite like a cuss word, MTHFR is actually the short name for the methylenetetrahydrofolate reductase gene. Everyone has two copies of the gene, one from the maternal side and one from the paternal side. "The MTHFR gene contains instructions for making an enzyme that's important for metabolizing folate (also called folic acid or vitamin B9).
MTHFR also helps our cells recycle homocysteine, a chemical in the blood, into methionine, a building block for proteins. There are two common naturally occurring variants in the MTHFR gene, called C677T and A1298C"(23andme). For more detail on the specifics of these variants, see MTHFR: Understanding the Genetics.
When people say that they have MTHFR what they mean is that they have a variant of the MTHFR gene, or a mutation of the gene.
It is important to note, though, that just because someone has this mutation does NOT mean that the gene is expressing itself.
Boiling it down to terms that are easier to understand, people with a MTHFR gene mutation have a highly reduced ability to convert folic acid or even folate into a usable form. Converting folate into a useable form is essential for DNA synthesis and repair, neurotransmitter production, detoxification, and immune function, thus not being able to do so has many different implications for the body.
For instance, for someone with MTHFR, it is more difficult to break down and eliminate the toxins and heavy metals found in everyday life compared to someone without the mutation. This includes aluminum, lead, glyphosate, food dyes, etc.
Possible Health Implications
Possible health implications of having a MTHFR mutation include depression, ADHD, migraines, miscarriage, problems with sleeping, cardiovascular disease and stroke. Many parents of children with Autism and/or PANDAS/PANS who have done the genetic testing find that their child has MTHFR.
This makes sense, considering a child with MTHFR cannot detox. When a MTHFR child is given heavy metals and toxins via vaccines, the metals pass the blood/brain barrier and cause neurological issues. The biological/genetic connection with adverse vaccine reactions has/is being studied and discussed in the medical field, as you can read about HERE and HERE. In addition, this mutation is linked to tongue ties (my first clue my son had at least one expressing variant), asthma and certain cancers.
For a more comprehensive list of health implications caused my MTHFR variations, see Dr. Ben Lynch's List.
MTHFR and Anesthesia
As I mention above, people with MTHFR cannot detox well. Thus, when given certain medication, vitamins and supplements, there can be adverse reactions. In many cases where anesthesia is used, the situation is immediate or an emergency and there isn't much time to gather needed information on the spot. This is why it's important to have looked into it and to have the information in a handy spot as a 'just in case.'
Certain anesthesias, including ones used in dentistry, can lead to a stroke, "catastrophic neurologic outcomes" or even death for some. Please note, I am not a doctor. Do your research and ask questions before consenting or not consenting to anesthesia. In my opinion, avoid anesthesia when at all possible.
Anesthesia to Avoid by Someone with MTHFR (of course, discuss with an
anesthesiaoligist as well)
*Nitrous Oxide (Laughing Gas)  – See this study and this article for reasons why it should be avoided.
*Anesthesia containing adrenaline (epinephrine)
*Propofol – can be toxic to mitochondria. People with MTHFR often have damage to mitochondria already. See this study and this study.
Safer Anesthesia for a Person with MTHFR (please note all anesthesia comes with risks)
*Carbocaine (local anesthesia)
*Sevoflurane without Nitrous Oxide (general anesthesia)
*Versed (a sedative)
*Fentanyl (a sedative)
What To Do If You Can't Avoid Anesthesia
1. DETOX. Use epsom salt baths, drink greens drinks that include sea greens (this is a good one that is processed on low heat, organic and non-gmo. Referral code to use is raisingnaturalkids) and drink a lot of water. *This suggestion contains affiliate links.
2. Support the liver and help the body recover from the stress on the nervous system caused by anesthetics.  Milk Thistle and Dandelion are both good for this. Milk Thistle regenerates liver cells, protects against toxins, and guards against free radicals. It also "promotes the body's detoxification process by preventing the depletion of glutathione, a natural antioxidant found in the liver. The concentration of this antioxidant is reduced when you are exposed to chemicals, including anesthetics. When glutathione levels decline, liver cells become more susceptible to damage. Milk thistle not only prevents the depletion of glutathione but also has been shown in laboratory studies to increase the level of this potent antioxidant by up to 35%"(Murray).
3. Replace what the specific anesthesia depletes. For instance, Nitrous Oxide depletes B12, so you need to replace this right away. Not being a doctor and not having experienced this myself, I cannot tell you how much to take and for how long. Consult an alternative medical practitioner for more information on this.
Where to Go for More Information on MTHFR
Dr. Ben Lynch's website – MTHFR.net
FB has many groups where you can learn from others dealing with MTHFR such groups are: MTHFR – Understanding Gene Mutations & Epigenetics and MTHFR Kids
And My Son's Teeth…
2 months later they still look like they do in the photo above, BUT they are still there and no root canal is needed (no anesthesia was needed either!). He'll get caps on them in a couple of months and it will look like nothing ever happened. I researched and found natural alternatives to making sure his roots would strengthen, saving the teeth. I'll put that all in a future post in case you ever need a place to come to find out about how to avoid a root canal, how to save teeth, how to not freak out when your child opens his mouth and you see what I saw… you get the picture. Don't want to miss it? Sign up HERE to get notified when I publish it!
If you find this post useful please share it with others so that they are aware of the dangers of anesthesia as well. Thank you! 
What Next? You can sign up to get our latest e mails on this topic and more here:

Raising Natural Kids e-mail sign up
And Join Our Closed FB Group where I will be going live to share our story with MTHFR, PANDAS and PANS.