Preventing and healing cavities doesn't have to be done at the dentist. There are non-intrusive ways to care for your teeth. You can prevent and treat cavities naturally!  ***This post has been updated as new events and information has come my way!
My Daughter's Story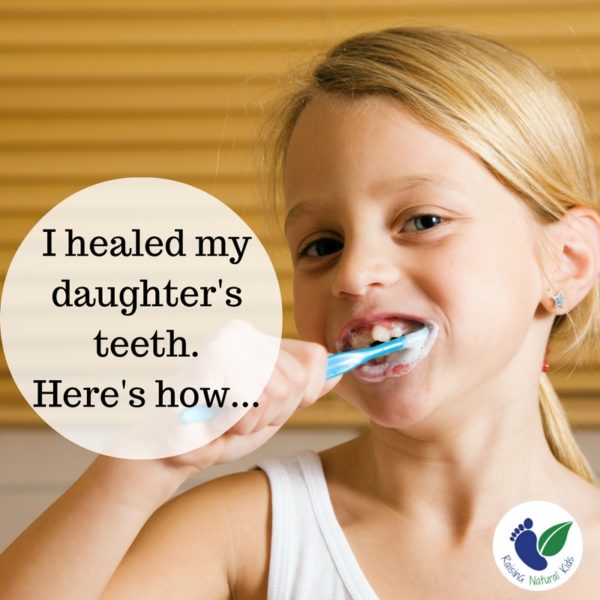 When my daughter turned three, I took her to the dentist for her first checkup. At that time I had already seen some dark spots on some of the lower back teeth, despite both my careful attention to her diet and her love of brushing her teeth (she would brush them about five to eight times a day!). The dentist confirmed that Lila, my daughter, had a brown spot on two molars, due to deep groves that she genetically had, allowing food to get stuck there easily. The dentist also told me that the only way to prevent them from turning into cavities was to use fluoride – both in her toothpaste and either in water or through a supplement.
Of course, I was not buying into the fluoride suggestion. I did take action though. I reread things I had come across on healing cavities naturally (I have these linked at the end of this post). Then, I added more coconut oil to her diet, introduced cod liver oil (put on toast with jelly) and ghee (I'd cook with it or put on toast with the cod liver oil and jelly). In addition, Lila did her own version of oil pulling whenever she saw me doing it. I also changed her toothpaste. We had been using Tom's of Maine, but it's not so natural and has some ingredients that I believe actually added to the spots. Instead, I switched to Happy Teeth Toothpaste. We went back to the dentist six months later and …. the brown spots were GONE!!! 
Fast forward two years later. Once the spots were gone, I thought we could forgo some of what we had been doing when we healed the decay. We stopped oil pulling for lack of time now that Lila was going to school, and we stopped the cod liver oil, coconut and ghee. We did continue with the Happy Teeth toothpaste, but with so much going on these past two years (it's been non-stop with all three kids), I didn't monitor her teeth brushing – she did it herself every day, twice a day, but I didn't realize that she wasn't reaching the top back molars. In addition (and I feel this played the biggest role), she had been eating an organic lollypop once a day – ugh! My kids don't eat the diet of a typical child and this was their one 'like other kids' treat. Thus, when I took her to her dental check-up six months ago, she had two teeth with cavities – different teeth than previously.
Our original dentist had retired, so I took her to a new one local to us for the check-up. They wanted to inject her with lidocaine and fill the cavities within the next month. My daughter has been struggling with some neurological issues and the last thing I was going to do was inject her with any sort of chemical, much less in the head area, so I did my research and found a great holistic dentist. I urge anyone dealing with cavities to do the same. From my discussions with Dr. Olga Isaeva, DDS, NMD, IBDM, along with what I did in the past, here's a great protocol to follow when dealing with decay of the teeth.
Protocol for Healing Tooth Decay
Much of this protcol is great for prevention too!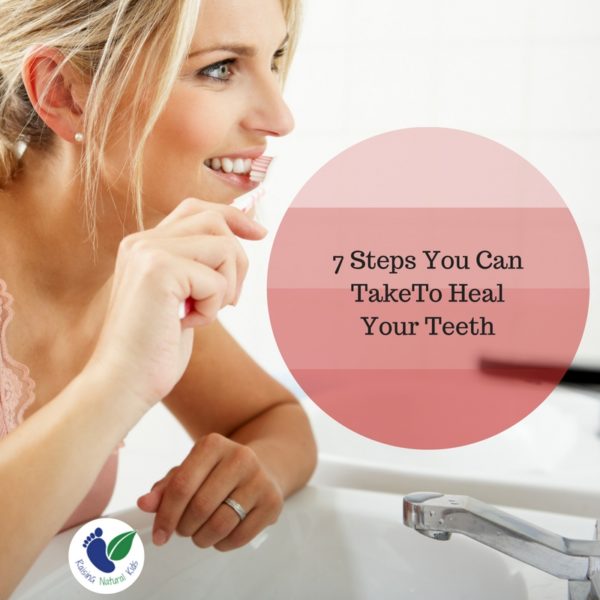 Use a clay based toothpaste as it provides minerals to remineralize teeth as well as being a detoxifier as its drawing properties draws out impurities. If for an adult, I recommend adding a toothpowder to your teeth brushing routine as well. I discuss this later in the post.
Oil Pull – Oil pulling is an ancient practice that improves oral health by whitening teeth, improving gums, and tackling bad breath as it reduces bacteria, plaque, and infection in the mouth.
Add a combination of butter oil and fermented cod liver oil to your diet. I would incorporate this on toast with jelly for my daughter. Some kids will just take it quick on a spoon. Green Pastures makes a combination of both. You can also get each separately (fermented cod liver oil & high vitamin butter oil). It needs to be of good quality that goes through minimal processing so as to maintain the vitamins in both. From the Weston A. Price Foundation: "Dr. Price always gave cod liver oil along with high-vitamin butter oil, extracted by centrifuge from good quality spring or fall butter. He found that cod liver oil on its own was relatively ineffective but combined with high vitamin butter oil produced excellent results." It's the fat soluble vitamins in these oils that are great for healing cavities and for your overall health. Green Pastures is the brand recommended by the Weston A. Price Foundation. They make it in both capsules, liquid and gel forms.
Add powdered eggshells to your diet. I wash the egg shells after using the egg, gently bake them and then grind them into a powder using a coffee grinder. You can find my exact directions here. You can add the powder to smoothies, on toast with jelly, in pancakes, in oatmeal on top of french toast under the syrup, in chili… in most anything really. Egg shells are very high in natural calcium. Here's more about it: Eggshells as a Calcium Rich Food.
Add a homeopathic form of fluoride to your diet along with a homeopathic calcium phosphate for a child. Fluoride in its original form is toxic and I do not recommend fluoride treatments, fluoride in water nor fluoride in your toothpaste. However, you can get a homeopathic fluoride that is completely safe. Calc phos works on the formation of bone and teeth while Calc fluor is found in the surface of bones and in the enamel of teeth. These remedies can be taken three times daily for many months. Both are recommended for children, while for adults with unhealthy teeth, the Calc fluor by itself should be taken.
Look into oxygen/ozone treatments. Many holistic dentists provide this treatment as a way to treat and eliminate infection while supporting healthy tissue. This is a simple treatment taking less than five minutes to complete. We tell my kids that the dentist is painting their teeth with magic water. You can also purchase it and apply it yourself once every other day – here's a post on it: Ozone for Teeth
Minimize or Eliminate Phytic Acid in Your Diet. Phytic acid, or phytate, is found in grains, nuts, seeds and some varieties of beans. When high amounts of phytic acid are consumed, the body will lose calcium and absorb other minerals at lower rates. You don't have to totally eliminate foods containing phytic acid, but you should soak and/or ferment them first, in order to reduce the phytic acid content.

Why You Should Find a Holistic Dentist
A holistic dentist can work with you in checking in on the cavity and providing treatments, like oxygen/ozone therapy to help. In a case where intervention is needed, most times they can remove and fill a cavity without any drugs. For instance, our dentist uses air abrasion instead of a drill, eliminating the need for any numbing drugs as it is virtually pain free.
Should you need dental work, please read this first: What you NEED to know about MTHFR and Anesthesia
A Great Tooth Powder for Adults
Toothpowder is the original form of toothpaste. This particular one is especially good for healing gingivitis, pyorrhea, and other tooth and gum problems. It also might assist in tightening loose teeth. It's excellent for normal brushing and can replace toothpastes. Children can use it as well, as long as they like a mint taste. I find younger children tend not to like this as the flavor is too strong.  HAPPY TEETH TOOTHPOWDER – Cavity Fighting Toothpowder
Organic Arrowroot Powder- used for thousands of years for overall mouth wellness
Organic Erythritol- natural cavity fighter & sweetens tooth powder
Organic Plantain Powder- tightens tissues and is soothing.
Organic Peppermint Powder- antibacterial provides relief and relaxation.
Organic Aloe Vera Powder-known for its ability to heal and to soothe
Organic Dandelion Powder: helps to detox & heal, soothing
Organic Cinnamon Powder- Freshens breath and prevents tooth and gum disintegration. Great for the immune system.
Organic Menthol:  great for breath freshening & antibacterial
Organic Licorice Root- breath freshening, good for the entire system & tooth vitality
Aluminum-Free Baking Soda- whitens & freshens
Organic Essential Oils of Peppermint, Tea Tree & Spearmint- breath freshening & oral vitality
My husband laughs at me because every time I brush my teeth with the powder, I go on and on about how my mouth has never felt cleaner. A little bit of herbal tooth powder goes a long way towards a refreshing and revitalizing tooth cleaner. This FOUR ounce by volume jar of toothpowder contains AT LEAST a 6 month supply of tooth powder for one person.  That's only $3.33/month! (And I realize this sounds like a sales pitch, but I want my message to be clear – it rocks!)
For kids, I use the Happy Teeth Cherry Toddler Toothpaste.
 Many people also recommend a book based on Dr. Weston Price's diet for preventing cavities: Cure Tooth Decay
 Related Links
How Egg Shells Can Help Heal Cavities
Author's Note: I make a percentage from the sales of the toothpastes and power through the links. I joined the Poofy team after recommending their products for 5 years unaffiliated. It made sense to join an amazing team that puts out 100% organic and safe products. They are what they say, unlike so many other companies saying they are green or organic, when they are not. I share them because I love them first and foremost. I am also an amazon affiliate. Thank you for supporting Raising Natural Kids with your purchase.