In this post: Learn why strep throat often reoccurs, how to make it leave for good and discover an amazing addition to boost what you are using to kill the strep. At the end of this post you will learn how to boost your family's immune system so that you can avoid getting sick in the first place. 
————————————————————-
Three times in three months. When it was confirmed that my six-year-old had strep yet again, thoughts of frustration raced through my head. I mean, how could it possibly be back for a third time? That's when I knew that I had to figure out WHY so that I could stop the pattern.
Strep Throat
This is something I know a lot more about than I ever wanted to know. So much so, that my pediatrician had me purchase my own box of strep tests so that I didn't have to keep spending time and money via co-pays, the drive to get to her and back, and the actual appointment.
In addition to the strep, when my daughter was four, she developed PANDAS, something that you can read about in my post, "When Strep Throat is More than Just Strep." Thankfully we are WAY past that and my daughter has been healed for three years now.
PANDAS is scary, especially when you have never heard of it and have no idea what is happening to your child. It's a long, hard road, but, for those on this path, please know, it is surmountable.
I haven't had a child of mine test positive for strep throat in over three years. However, I am often asked about how to get rid of it for good when it keeps reoccurring. There's actually a specific reason why someone will keep getting strep. There's also a fairly simple answer for getting rid of it. And, there's a way to boost what you are using to get rid of the strep itself.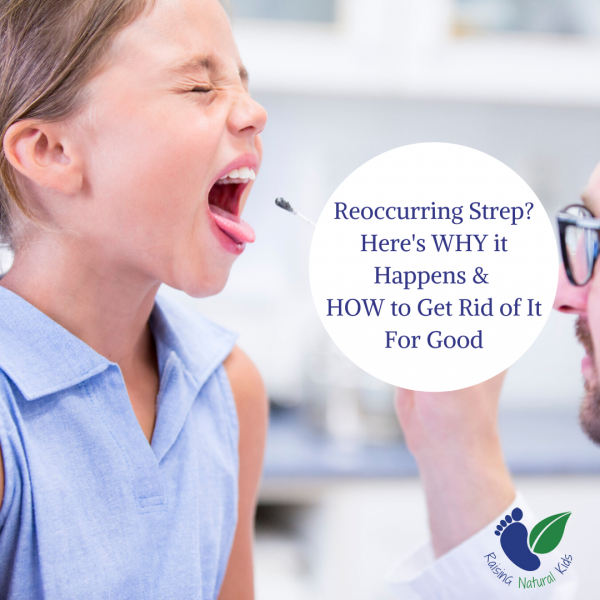 Disclaimer, because, you know, these days…
In case it's not clear, I am not a doctor, nor do I play one in the movies. I am a mother who researches everything and who was raised by a mother who is a naturopath, learning from her over the past twenty-something years. So, you know the deal, consult with a doctor OR a natural practitioner about the information I provide. In addition, this post may contain affiliate links. 
Why The Strep Bacteria Isn't Leaving
The simple answer: it's hiding! Really, it is. It's a living thing and like you, it doesn't want its life to end. Thus, the strep bacteria form a shield otherwise known as biofilm.

Biofilm is a sticky, slime-like substance that antibiotics cannot get through. When bacteria like strep are 'hiding' under it, the medicine (herbal or modern) cannot get to it to kill it. To give you a better picture, biofilm exists in the environment as it does in our bodies. For instance, the slippery stuff you sometimes see on rocks that are in or near water is biofilm.
"To form a biofilm, bacteria first adhere to a surface and then generate a polysaccharide matrix that also sequesters calcium, magnesium, iron, or whatever minerals are available"(Kresser Institute).
The good news is that there is a simple way to break it down, making the bacteria accessible to obliterate.
Here's Why Antibiotics, on Their Own, Don't Always Work on Strep:
"The current model of care usually assumes acute infections are caused by planktonic bacteria. However, most bacteria do not exist in this planktonic form in the human body, but rather in sessile communities called biofilms."(Kresser Institute). This matrix is almost impossible to break through without the appropriate mean used to deteriorate it so that the bacteria can be killed.
"Due to the high tolerance of group A streptococci biofilms toward antibiotics, group A streptococci biofilms are likely to be associated with antibiotic treatment failure in patients." In short, "The standard antibiotic medication for patients with group A streptococci infections is not sufficient to eradicate group A streptococci biofilms"(Frontier in Cellular and Infection Microbiology).
Along with the two articles referenced above, you can find more information on strep and biofilm in the Journal of Clinical Microbiology.
Getting Rid of Biofilm
In order for medicine or remedies to get to the biofilm, it needs to be broken down. To do this, we choose to use Klaire Labs Vital-Zymes. The enzymes in it work together to breakdown the sticky substance that makes up the biofilm. I gave this to my then 6-year-old daughter, giving 2 tablets a day, as suggested. She took it for a total of 45 days. She has NOT had strep throat since then, over three years ago. 
I have since become aware of other products and vitamins that also breakdown biofilm: 
Biocidin is something friends of mine have used successfully. The ingredients are cleaner than the ones in Vital-Zymes.
There is evidence that vitamin C effectively destabilizes biofilms. Adding this to an enzyme would be beneficial, not only for breaking down the biofilm, but for overall immune support.
Once the biofilm is out of the picture, there's even more that you can do to make sure you get to the strep and kill it all. But first, a note on vitamin C.
Not all vitamin C is created equal. Make sure that the vitamin C you purchase is plant-based and NOT ascorbic acid.
"Ascorbic acid is an isolate of naturally occurring vitamin C. In addition to ascorbic acid, vitamin C must include rutin, bioflavonoids, Factor K, Factor J, Factor P, and other components. If any of these parts are missing, there is no vitamin C, no vitamin activity. When some of them are present, the body will draw on its own stores to try and make up the differences. Only then will vitamin activity take place. The ascorbic acid you buy at the grocery store every few weeks, thinking you are buying Vitamin C, is just a chemical copy of naturally occurring ascorbic acid, which is still only a fraction of the actual Vitamin C"(The Doctor Within).
I use a great plant-based vitamin C that comes in capsules. My older kids swallow them and I open the capsule and put the contents in a green drink with lemon water for my now six-year-old (he's been taking them when he needs since he was three). This is it: C From Nature If you have never purchased from this online superfood store before, code raisingnaturalkids will give you $50 off an order of $75 or more.
How to Boost the Effectiveness of Both Antibiotics and Natural Remedies for Strep
Treating Strep with antibiotics vs natural remedies has been an ongoing debate in the world of alternative medicine. While there are plenty of natural remedies that you can find via natural blogs, naturopaths and holistic doctors, I find that many of these sometimes aren't possible for young children. The remedies are pretty intense, including a lot of raw garlic and things like oregano oil, that children aren't likely to take, especially in the quantities needed.
Because of the complications that can occur from strep, such as PANDAS and heart issues, I lean towards antibiotics with kids. However, I do fully believe in using anything natural along with it that they will take. This includes colloidal silver, which was studied in conjunction with antibiotics and found to be beneficial in working with them.
Keep scrolling down to see more about natural treatments, as I do know families who have taken this route with success.
Colloidal Silver Use in Conjunction with Antibiotics
"Research shows that low doses of silver can massively boost the effect of antibiotics on bacteria, making them up to 1,000 times more sensitive to the drugs"(Medical News Today). "They found not only did silver boost the ability of a broad range of commonly used antibiotics so as to stop mice dying of otherwise lethal infections, but it made at least one resistant bacterium succumb to antibiotics again.
The team also found that silver helps deal with two kinds of infections that usually require repeat trips to the clinic for antibiotic treatment. One being caused by biofilms"(Medical News Today).
Many antibiotics are thought to kill their targets by producing reactive oxygen compounds, and Collins and his team showed that when boosted with a small amount of silver these drugs can kill between 10 and 1,000 times as many bacteria (Owens).
Colloidal silver "attacks bacterial cells in two main ways: it makes the cell membrane more permeable, and it interferes with the cell's metabolism, leading to the overproduction of reactive, and often toxic, oxygen compounds"(Ownes). Thus, even if not treating with antibiotics, silver will still work in helping to eliminate the strep bacteria.
Which Colloidal Silver to Use
I have used two in my home, which I like. Make sure to read the labels, you don't want anything extra added. I like Nature's Sunshine and Silvercillin.
Of course, not contacting strep at all is ideal. This is why I cover ways to boost your immune system below.
Another Simple Fix that Many of Us Don't Think About
Change your toothbrushes! If you continue using the same brush that you used while you had strep, well after it's gone, you're setting yourself up for another possible infection.
Treating Strep Without Antibiotics
We certainly get scared to NOT use antibiotics. However, I personally know people who have treated strep naturally both in themselves and in their children. I  did try once, but my son started to develop the Scarlett Fever rash. At that point, I did not feel comfortable not using the antibiotics.
If you have treated naturally before, please comment with what you did that worked!
The Healthy Home Economist's Plan for Treating Without Antibiotics
Empower Yourself: Boosting the Immune System
Know that you can eradicate strep for your family, at least in that you can keep it from reoccurring. You can also boost your immune system through the year so that you can keep strep and other bacteria and viruses away. The major 'muscle' we use here to do so, is through our morning green drink, which I discuss here.
Adding vitamin C to this, along with elderberry during 'germ' seasons is important as well.
To learn more about the natural remedies and treatments that are helping children overcome illness and disease, sign up to get our posts as we publish them.
In Conclusion
Thankfully, strep is no longer a common word used in our home. There was no fourth time. Heck, there was never another first, second or third time in a row for any of my three children.
If you find this post useful please share it with others so that they can also eradicate strep for good. Thank you!
Housekeeping Note
Raising Natural Kids is a participant in the Amazon Services LLC Associates Program. This is an affiliate advertising program that provides a means for sites to earn advertising fees. This occurs by advertising and linking to amazon.com. I also link to other affiliates when applicable, only linking to products that I use in my own home.