When my oldest son was two, it was clear, after going to a couple of birthday parties, that he could not tolerate food dye. Now he is 12 and on the occasion that he goes somewhere and sneaks a skittle or intakes it unknowingly, the effects torture him (and us) for days.
The effect of artificial food dye on kids
For him, it creates rage along with hypersensitivity. It doesn't happen right away; it takes hours into the next day and then lasts 8 to 12 days. My other two kids do not seem to have any reactions but knowing the other concerns that they are linked to, we avoid them for all of our kids.
If you'd like to learn more about the effects of artificial food dyes, you can read about them here: The Ins and Outs of Food Dye Sensitivity and Looking at Each Food Dye Individually
Thus, we use natural egg dye when dyeing Easter eggs
The artificial dyes seep into the egg itself, and since we eat them, using artificial is not an option.
Through the years we have come to make our own dyes and use pre-made ones from small family businesses. Here's what we like the best.
Four Great Natural Egg Dye Brands
Earth Paint – Family-owned. Kit contains 4 dyes to make 5 or 6 colors made from pure, natural fruit & vegetable extracts (spinach, purple carrots, turmeric, beets, red cabbage, and blueberries).
Color Kitchen – Family-owned. Contains 3 colors of dye. Ingredients: maltodextrin, (blue) cabbage, (purple) radish, and (orange) annatto extract.
Natural Candy Store – Family-owned. Contains dyes made from organic annatto, carmine, red radish, beet, mulberry leaf, purple sweet potato. Additional information from the manufacturer: The facility does not process any of the eight major allergens (peanuts, tree nuts, wheat, milk, egg, soy, fish, or shellfish/crustaceans).
Easter Unlimited – Kit contains tablets of all-natural dye powders made with grape skin extracts, turmeric, radish, and copper chlorophyllin. I have seen this brand sold for cheaper at Walmart.
**Raising Natural Kids serves as an affiliate for Amazon.
Making Your Own Natural Egg Dye
An even better alternative is to try your hand at making your own food dyes if you are up to the challenge – just know that some of the homemade dyes have to be made at least 1 day in advance and some of them require you to sit the egg in the dye for 24 hours in order to get a bright color.
Here are some recipes: Dyeing Easter Eggs Naturally, Natural Egg Dying Recipes from HGTV (this post has some great photos), and from Mommypotamus, Dyeing with Everyday Ingredients.
As for the rest of Easter planning, check out basket filler and egg hunt options here: Natural and Eco-Friendly Easter Ideas
I have used recipes from all three of the posts above with brilliant results, as seen below using brown eggs.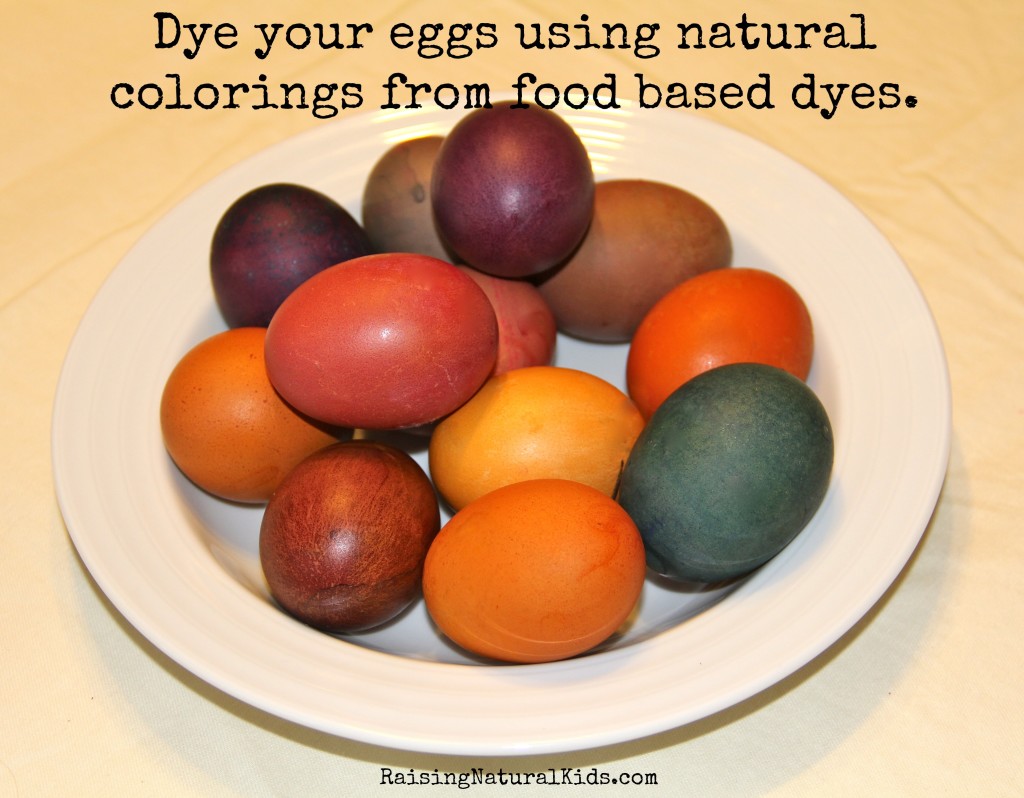 If you find this post useful please share it with others. Thank you!
Housekeeping Note
Raising Natural Kids is a participant in the Amazon Services LLC Associates Program. This is an affiliate advertising program that provides a means for sites to earn advertising fees. This occurs by advertising and linking to amazon.com. I also link to other affiliates when applicable, only linking to products that I use in my own home.