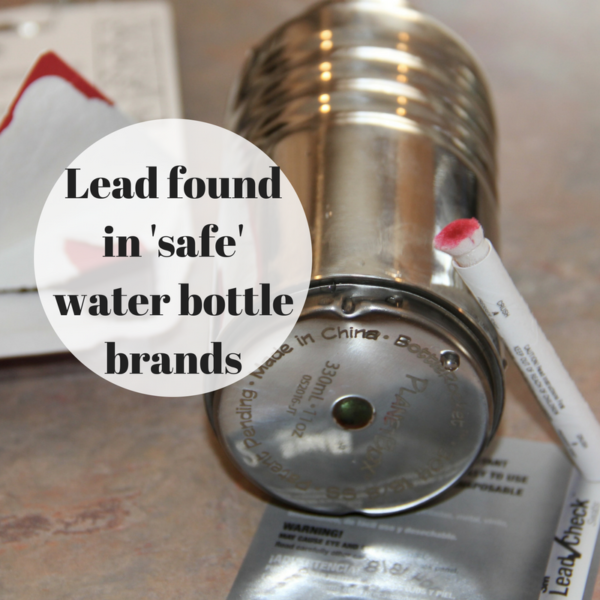 Lead In Stainless Steel Water Bottles
Last week, Shannon, of the Natural Baby Mama, shared her post with me about toxic levels of lead in stainless steel water bottles. In this piece, Shannon reveals that she hired Tamara Rubin to test water bottles (along with other items) that she had in her home, for lead. I was shocked to learn that PlanetBox water bottles are among those testing positive.
Normally I would share results like this directly from Tamara and Shannon's blogs, however, over and over I have shared how I love PlanetBox water bottles and I feel the need to explain where my thoughts are on this and the steps I have taken in regards to them. Please see Tamara and Shannon's blogs for the list of other brands that tested positive for lead.
My PlanetBox Experience
We have 8 PlanetBox water bottles in our house. My 8 and 6 year olds take three to school each day. I use one for the gym and my 4 year old uses them as well. Thankfully, the placement of the lead is NOT inside of the bottle and DOES NOT contaminate the drink inside. The lead is used in a solder on the bottom of the bottle. On the larger version (named the Booster), which I own for the gym and my kids sometimes use as well, there is nothing covering the area; it's exposed for any hand to touch. The kids' version does have a plastic cap over the spot of lead, but it can easily be removed.
Case In Point
When my daughter saw that my water bottle had no cover on the bottom, she wanted hers to look like mine and took her cap off. Had I known that the very spot where she often balances the bottle in her hand contains lead, I would have taken the bottle away. As you'll see in the Natural Baby Mama's post, though not easy, this area can be scratched at and pieces can flake off.
Now this concerns me for all kids and adults alike, but in particular I have concern for my daughter, who has 
PANDAS
. Through this diagnosis, we did extensive blood work and genetic testing and found that she has genetic mutations that make it so that she cannot properly detox heavy metals out of her system. This causes an array of health problems. Lila is not alone. Many children have the MTHFR mutation making the methylation process of detoxing even more of an issue than the average child.
This being the case, I take any contact with heavy metals quite seriously. In fact, after seeing the post about the lead, I told my daughter that she is NOT to take the cap off of her bottle, explained the lead situation and told her that it is quite serious. Thinking herself funny, as six year olds do, she pretended to lick the lead spot. This tells me that she is not mature enough to have this bottle, knowing she may very well take the bottom off again.
What PlanetBox Has to Say
Let me take the time to stop and say that I really loved PlanetBox. I still love their philosophy and their lunch boxes, which do not contain any lead (there is no solder used on them). When I learned about the lead, I found, through their website, that they were offering to take back and refund any bottles that people want to send back because of the lead. This information is found in the graphic below. ***PlanetBox has since changed this stance and is no longer taking back their water bottles due to this issue. You can read their reasoning HERE.***  I reached out to the co-founder, Caroline, about the situation and received a reply back from someone other than who I addressed the e-mail to.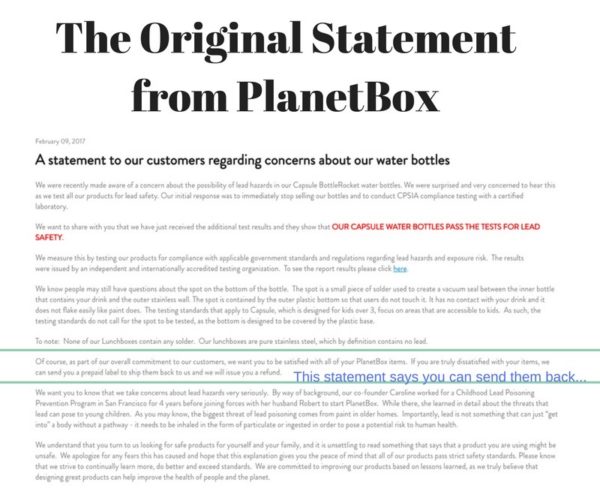 In the reply back from Teri of the PlanetBox Customer Care Department, I was assured that "By way of background, our co-founder Caroline worked for a Childhood Lead Poisoning Prevention Program in San Francisco for 4 years before joining forces with her husband Robert to start PlanetBox. While there, she learned in detail about the threats that lead can pose to young children." I truly hope that with this background, PlanetBox will find a way to take the lead out of the bottles, making them lead free.
To date, neither the Natural Baby Mama, who spoke with the co-founder herself, nor I, have received any information that they are heading in this direction. Since the co-founder's background is in lead poisoning and she is very aware of the dangers, I am hopeful that the lead will be taken out and I will able able to go back to loving them (I still love their lunch boxes)!
What We're Using Now
I am now using my Lifefactory water bottles (which I have owned for 8 years). Glass cannot leach, so these are a safe bet. However, as great as these are for adults, they don't work as well for kids of certain ages. Lifefactory has great sippy caps that can be used on their glass bottles that come with a protective rubber sleeve. Once out of the sippy stage, we got their closed caps so that the kids can use the sippy bottles as water bottles. The problem is that they look too much like baby bottles and this bothers my 6 and 8 year olds. The bigger version of Lifefactory's bottles are too big to fit in their lunch and snack bags, which is why I looked to PlanetBox. That being said, if you need baby bottles, sippy type bottles or ones for yourself, Lifefactory rocks.
As for school, I went with Klean Kanteen, knowing that they are recommended by Tamara Rubin, queen of lead safe products. I don't have a review since we only just started using them, but I can say they are lacking in the aspects that I love about the PlanetBox water bottles. Specifically, the mouthpiece is not ideal for kids, especially in traveling to and from school. They do give two options, but one version doesn't have great reviews. The one that we purchased, seen in the picture, will open and spill everywhere if the kids can't get the caps on quite right. I really hope that PlanetBox rids their bottles of the lead so that we can go back to using them.
One Last Note on Stainless Steel
I prefer glass over stainless steel when it comes to anything food or drink related. However, sometimes glass isn't an option. This being said, I would be remiss in not explaining why glass is preferable. Being metal, stainless steel releases iron, chromium, and nickel into foods. Here are some links to follow up with:
**Raising Natural Kids serves as an affiliate for Amazon. We link any products we use in our own homes and with our own families to Amazon when applicable. Any monies earned help us to run and maintain this blog. Thank you!