Every summer, we use the garden hoses to fill up the water tables and kiddie pools, turn on the toy sprinkler and let the kids have some water fun out in the backyard, while my husband and I tend to our organic garden. What we didn't know, until recently, was that we were exposing both our children and our soil to harmful metals and chemicals.
In 2012, HealthyStuff.org* conducted studies on almost 200 hoses, gloves, kneeling pads and tools. In 2016, 32 more were tested. Researchers tested for "lead, cadmium, bromine (associated with brominated flame retardants); chlorine (indicating the presence of polyvinyl chloride, or PVC); phthalates and bisphenol A (BPA). Such chemicals have been linked to birth defects, impaired learning, liver toxicity, premature births and early puberty in laboratory animals, among other serious health problems." ***This post has been updated for 2019
FINDINGS on the Garden Hoses, as stated by HealthStuff.org:
100% of the garden hoses sampled for phthalates contained four phthalate plasticizers which are currently banned in children's products.
Two water hoses contained the flame retardant 2,3,4,5-tetrabromo-bis(2-ethylhexyl) phthalate (TBPH).
What Was Found in the Water from the Hoses:
Water sampled from one hose contained 0.280 mg/l (ppm) lead. This is 18-times higher than the federal drinking water standard of 0.015 mg/l.
BPA levels of 2.3 ppm was found in the hose water. This level is 20-times higher than the 0.100 ppm safe drinking water level used by NSF to verify that consumers are not being exposed to levels of a chemical that exceed regulated levels.
The phthalate DEHP was found at 0.025 ppm in the hose water. This level is 4-times higher than federal drinking water standards. EPA and FDA regulate DEHP in water at 0.006 mg/l (ppm).
You can click here to view all findings: HealthyStuff.org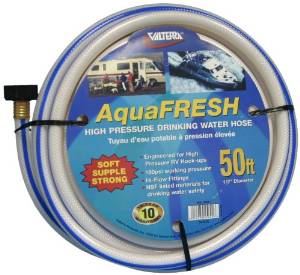 What to do to Avoid these Chemicals (As shared by HealthyStuff.org):
Read the labels: Avoid hoses with a California Prop 65 warning that says "this product contains a chemical known to the State of California to cause cancer and birth defects and other reproductive harm." Buy hoses that are "drinking water safe" and "lead-free."
Let it run: Always let your hose run for a few seconds before using, since the water that's been sitting in the hose will have the highest levels of chemicals.
Avoid the sun: Store your hose in the shade. The heat from the sun can increase the leaching of chemicals from the PVC into the water.
Don't drink water from a hose: Unless you know for sure that your hose is drinking water safe, don't drink from it. Even low levels of lead may cause health problems.
Buy a PVC-free hose: Polyurethane or natural rubber hoses are better choices.
In the past, my husband thought I was ridiculous for getting upset when my kids drank out of the hose. Yet, just last month (Feb. 2016) it was identified that a place not too far from us has been contaminating the water with cadmium for years, and on top of that that we are about 10 blocks away from the most contaminated spot in all of New York State. I'm pretty glad I made a stink about not drinking from the hose. We'll stick to our filtered drinking water, thank you!
LINKS TO SAFER GARDEN HOSES
Apex Drinking Water Safe Hose – NeverKink
Colorite Element Lead Free, Kink Free Hose
Water Right Polyurathane Drinking Water Safe *My Choice based on reviews and stats
* This list has been updated since first posting it, as further tests found lead in even options that call themselves "lead safe." PLEASE NOTE that just because the ones I listed tested as safe, others by the same brands did not, so stick to the exact ones on the list! Raising Natural Kids is a participant in the Amazon Services LLC Associates Program, an affiliate advertising program designed to provide a means for website owners to earn advertising fees by advertising and linking to amazon.com, audible.com, and any other website that may be affiliated with Amazon Service LLC Associates Program. We only ever link to products we use in our own homes.
**"HealthyStuff.org is based on research conducted by environmental health organizations and other researchers around the country. The Ecology Center created HealthyStuff.org and leads its research and development. The Ecology Center is a Michigan-based nonprofit environmental organization that works at the local, state, and national levels for clean production, healthy communities, environmental justice, and a sustainable future."
Works Cited
"Chemicals in Hoses Leach Water, Study Finds." HealthStuff.org. May 2012. Web. April 26, 2012.
"Don't Drink the Water: Study Warns Drinking From Garden Hose." CBS News. June, 2012.